The best way to get started is to determine if you want to work with a Contractor or are you a "Do-It-Yourselfer". We work with a number of professionals that we can recommend to do as much or as little work as you need done.
We can start by showing door designs, wood samples, stain or paint colors, cabinet construction, materials used and options available. Or, we can come to your home and get the measurements needed to do a layout / design and prepare a quotation. Either way is a great way to "Getting Started". The following information is for those of you that would prefer to get better acquainted with kitchen layout and design.
Accurate measurements as indicated in the measuring procedure are the key elements we will need to plan your new kitchen. With this information, our kitchen specialists will be able to help design the kitchen of your dreams!
Floor Plan
Before any planning can start we must know the exact dimensions available to work with. Using the measuring procedure illustrated, carefully prepare a simple floor plan of your existing kitchen. Your completed floor plan should resemble the diagram shown below. Make sure you show exact locations of doors, windows, hood vents, exhaust, gas line, water line, drains, switches, outlets, light fixtures, and heat vents. Double check all measurements.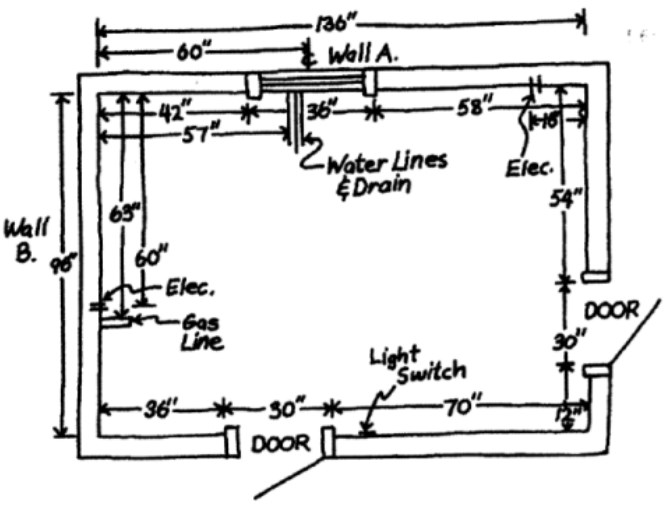 Measuring Procedure
Using a tape measure and graph paper, measure as outlined below.
Horizontal Measurement
1). Measure from wall to wall at 36″ height.
2). Measure from corner to window or door opening.
3). Measure across opening from trim edge to trim edge.
4). Measure from edge of trim to far wall. Compare sum of #2, #3 and #4 measurements to step #1.
5). Mark exact location of water, drain, gas lines and electrical outlets and
switches on drawing.
6). Measure from wall to wall above window and compare to #1.
Vertical Measurement
7). Measure from floor to window sill.
8). Measure from window sill to top of window.
9). Measure from top of window to ceiling.
10). Measure from floor to ceiling – Compare to sum of #7 , #8 and #9.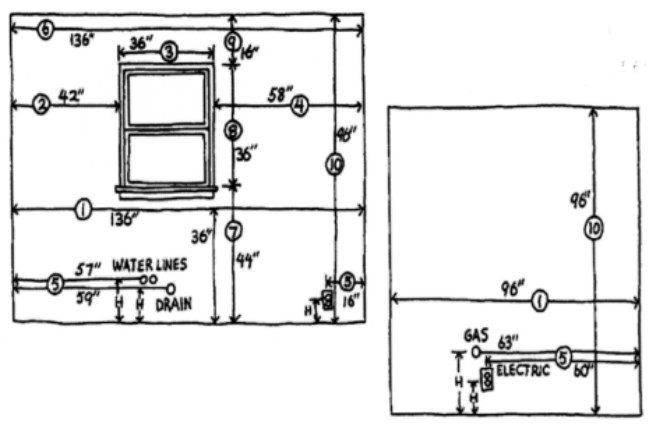 Appliance / Fixture Information
Show desired locations of appliances on drawing. It is very important to indicate natural gas locations, 220 volt outlets, any wall mounted telephone locations (T) and cable TV locations (CTV).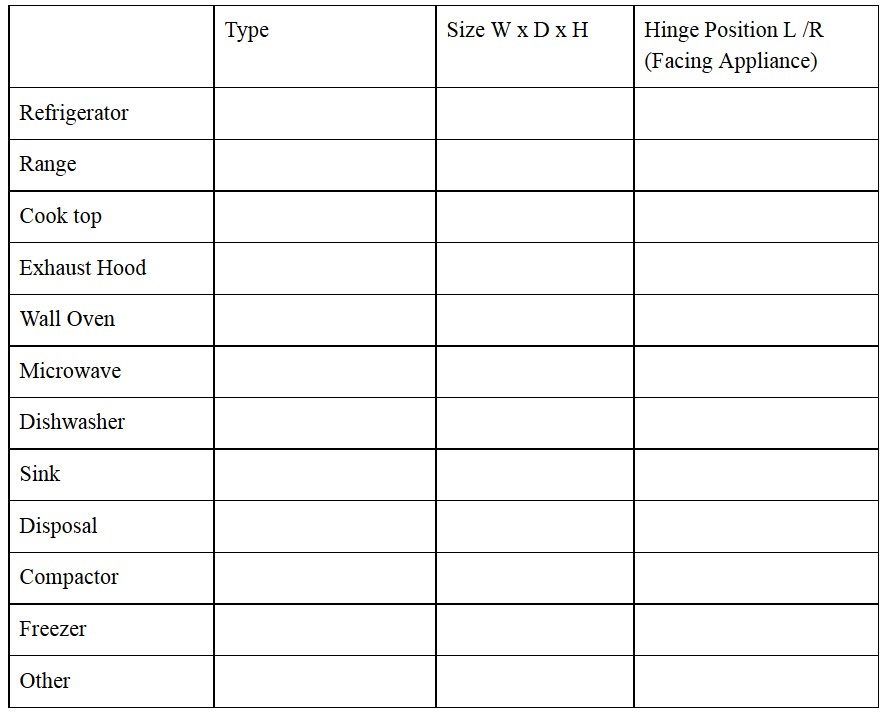 Available Accessories
Customize your kitchen with these cabinet accessories and options.
Mullion Doors
Wall Cabinet Decorative Ends
Wine Rack
Knick Knack Wall Shelf
Under Cabinet Organizer
Stem Glass Holder
Corner Appliance Garage
Straight Appliance Garage
Wood Hoods
Microwave Wall Cabinet
Straight Valance
Curved Valance
Country Valance
Base Knick Knack Shelf
Peninsula Base Knick Knack Shelf
Base Cabinet Decorative Ends
Pull Out Pantry Cabinet
Fluted Fillers
Open Shelved Bookcases
File Drawer Base Cabinet for Desk
Knee Drawer Cabinet for Desk
Cutting Board
Tray Divider
Rolling Tray System
Utility Trays
Cutlery Trays
Spice Trays
Cosmetic Tray
Lazy Susan in Wall Corner
Cabinet
Lazy Susan in Base
Corner Cabinet
Sink Front Tilt-Out Trays
Behind Door Storage Trays
Waste Baskets
Door Mounted Spice Racks
Pull Out Wire Pantry Kit
3 Shelf Pull Out Baskets
Single Shelf Pull Out Basket
Pull Out Towel Bar
Under Sink Baskets
Cabinet Security Locks
Design By Computer
After you have completed your kitchen layout drawing, bring it to our showroom. Here the drawing will be discussed and any possible changes can be made. A computerized 3-dimensional layout will be presented. This will give you a realistic rendering of your dream kitchen!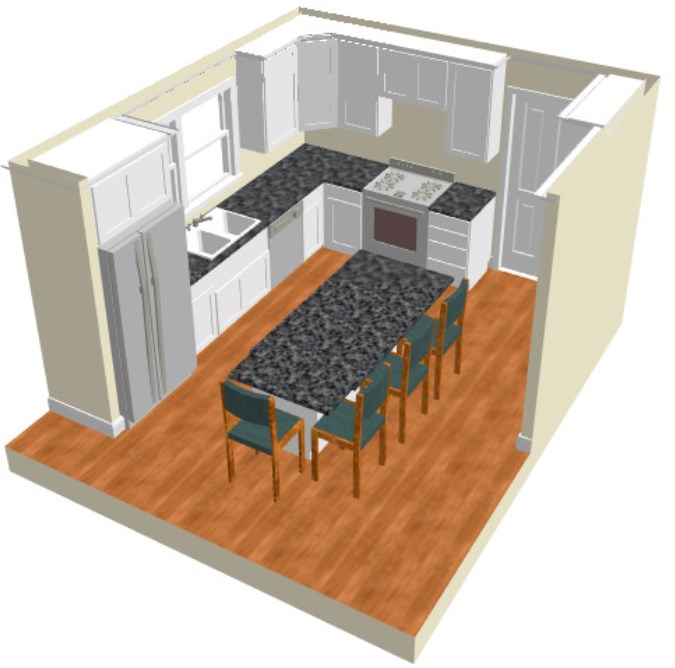 Helpful Hints
Be sure there is adequate access to remodeling areas.
Reduce the spread of dust and dirt by covering all work area openings.
Allow plenty of time for product delivery.
Check all new cabinetry first before tear down begins.
Have plenty of room for opening uncartoned products.
Plan for removing additional trash and debris.
Make provisions for food preparation, utensils, and clean-up while your kitchen is being remodeled.
Save